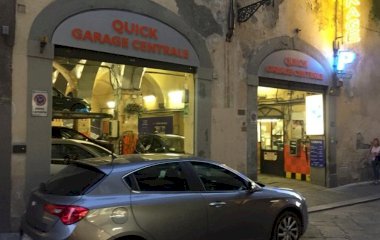 On arrival, hand over your booking email and car keys to one of their staff, who will validate your booking, give you a receipt and transfer your vehicle to a nearby (larger) car park located on Via dei Gozzoli, 2 km away, and make your way to the terminal, which is less than a minute away.

When you wish to leave your vehicle, call the number on your booking confirmation email 90 minutes in advance so that one of their drivers can take it back to the car park. To pick it up, give the operator your booking voucher and the receipt you were given when you entered the car park.

PLEASE NOTE:

- The Car tariff only applies to small and medium sized cars (< 5 m in length).
- For SUVs, SWs or MPVs, the "Van" rate applies.
In case of reservations that do not correspond to the type of vehicle, the difference will be charged according to the rates in force in the car park.

- Luxury cars (those with a fiscal power of more than 185 kW) will be charged extra in the car park.

The reservation covers only one entry and exit of the car park, each time you want to enter and exit, you will have to pay an extra €5, at the car park.

Denne parkering er inden for den begrænsede trafikzone ZTL Florencia .
Parkeringspladsen ligger inden for Florence Limited Traffic Zone (ZTL).
Ved ankomsten skal du betale et gebyr, som gør det muligt for parkeringspersonalet at opføre dit køretøjs registreringsnummer på listen over dem, der har tilladelse til at køre ind i ZTL.
Registreringen dækker en enkelt ind- og udkørsel i ZTL-området.
Når du ønsker at køre ind eller ud af parkeringspladsen i de timer, hvor ZTL-ordningen er aktiv, skal du betale et ekstra gebyr.
Rutevejledning
To reach the entrance to the car park, take Viale Fratelli Rosselli as far as the junction with Via Santa Caterina d'Alessandria; take the road and continue straight on along Via Nazionale until you reach Piazza della Stazione.
From here, take Via Panzani, then turn right at the sharp bend in Via dei Banchi and, further on, turn left into Via delle Belle Donne.
Go straight on and turn into Via della Spada, until you reach the junction with Via dei Fossi, where the car park is located.
Parkeringsadgangssystem

Når du kommer ind på parkeringspladsen, skal du tage billetten og vise din bekræftelse på kontrolkabinen.
Bookingpriser
* Priserne kan variere efter sæson.
ONEPASS

Du kan ikke komme ind og ud under dit ophold.

ONEPASS
ONEPASS

Du kan ikke komme ind og ud under dit ophold.

ONEPASS
24 timer

36,00 €

40,00 €


SUV – SW – Monovolume
2 dage

72,00 €

80,00 €


SUV – SW – Monovolume
3 dage

108,00 €

120,00 €


SUV – SW – Monovolume
7 dage

252,00 €

280,00 €


SUV – SW – Monovolume
14 dage

504,00 €

560,00 €


SUV – SW – Monovolume
21 dage

756,00 €

840,00 €


SUV – SW – Monovolume
Parkeringspladser i nærheden