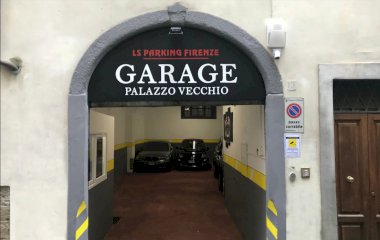 In case of heavy use, the parking staff will be able to transfer your vehicle to a nearby car park located at Via della Casaccia 11, 2.5 km from the car park.
If you want to dispose of your vehicle at the Palazzo Vecchio garage (within its opening hours), call the number you will find on the reservation confirmation email 30 minutes in advance and the parking staff will take it back to Via Vinegia, 13.

The Palazzo Vecchio Garage is located in the Florence Limited Traffic Area (ZTL). Upon arrival at the car park, and upon payment of 1 €, the staff will proceed to register your vehicle on the list of vehicles authorized to access the ZTL.
Registration covers only one entry/exit from the ZTL area; if, after parking the car and during the period of your reservation, you want to leave and enter the car park during limited traffic hours, you will have to pay €5 per exit.

The Palazzo Vecchio Garage is located 7 minutes walk from the Ponte Vecchio, only 4 minutes from the Uffizi Gallery and close to Piazza della Signoria, Piazza and Palazzo Pitti (including the Palatine Gallery), Piazza della Repubblica and Santa Maria dei Fiore Cathedral, among other attractions.
Do not hesitate, if you are looking for a parking space in the heart of Florence, here is your best option.
Denne parkering er inden for den begrænsede trafikzone ZTL Florencia .
Parkeringspladsen ligger inden for Florence Limited Traffic Zone (ZTL).
Ved ankomsten skal du betale et gebyr, som gør det muligt for parkeringspersonalet at opføre dit køretøjs registreringsnummer på listen over dem, der har tilladelse til at køre ind i ZTL.
Registreringen dækker en enkelt ind- og udkørsel i ZTL-området.
Når du ønsker at køre ind eller ud af parkeringspladsen i de timer, hvor ZTL-ordningen er aktiv, skal du betale et ekstra gebyr.
Rutevejledning
Traveling through the centre of Florence is very complicated. Follow the route shown in the picture to reach the car park easily and without a fine.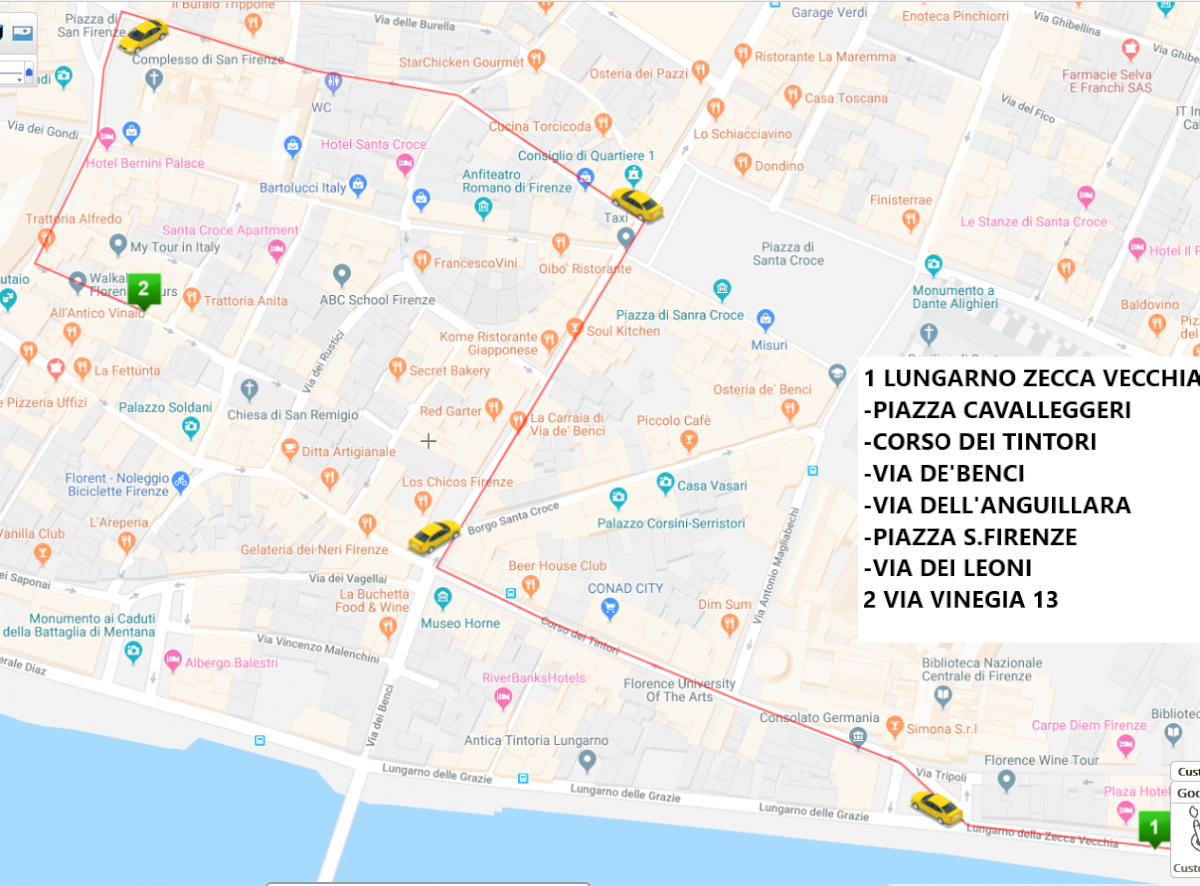 Parkeringsadgangssystem

Når du kommer ind på parkeringspladsen, skal du tage billetten og vise din bekræftelse på kontrolkabinen.
Bookingpriser
* Priserne kan variere efter sæson.
MULTIPASS

Du kan komme ind og ud under dit ophold (gælder kun for reservationer på mere end en dag og inden for parkeringens åbningstider).

MULTIPASS
MULTIPASS

Du kan komme ind og ud under dit ophold (gælder kun for reservationer på mere end en dag og inden for parkeringens åbningstider).

MULTIPASS
MULTIPASS

Du kan komme ind og ud under dit ophold (gælder kun for reservationer på mere end en dag og inden for parkeringens åbningstider).

MULTIPASS
En time

N/A

N/A

N/A

2 timer

N/A

N/A

N/A

4 timer
18,00 €
29,00 €
38,00 €
8 timer
18,00 €
29,00 €
38,00 €
12 timer
18,00 €
29,00 €
38,00 €
24 timer

18,00 €

29,00 €

38,00 €

2 dage

36,00 €

58,00 €

76,00 €

3 dage

N/A

87,00 €

114,00 €

7 dage

N/A

203,00 €

266,00 €

264,00 €

14 dage

N/A

406,00 €

532,00 €

525,00 €

21 dage

N/A

609,00 €

798,00 €

791,00 €

30 dage

N/A

870,00 €

1.140,00 €

965,00 €
Parkeringspladser i nærheden